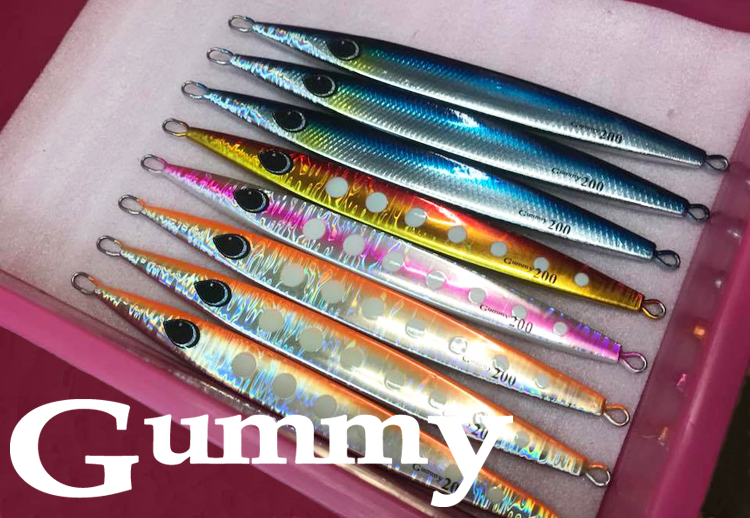 ジャークを入れてやり「間」をタイミングで作ることでジグが横姿勢でステイし、そして頭から落ちていく。
ジグを追って食って来たヒラマサやブリは「間」を見て食欲を発揮する。垂直姿勢になってからヘッドを先に滑るように落ちていくフォール姿勢は、まるでベイトが逃げる姿。
ヒラマサ、ブリに口を使わせるメタルジグ "Gummy(ガミー)"。
潮の絡みを感じることができ、アクション、姿勢を想像できる高次元、高感度。実証された釣果は今までにないメタルジグです。
■
The jig keeps stay horizontally by getting " a pause" from jerking and falls from the head. Kingfish or Yellowtail which go after and try to eat the jig stimulate their appetite when they see "a pause". The falling posture is just like that a bait which runs away after getting to be vertical and then slides and falls from the head.
The jig "Gummy" lets Kingfish or Yellowtail to make using their mouths. It is high dimension and supersensitive so you can feel that the jig gets stuck by the sea water and imagine the action and the position.
The best fishing result that ever proofed is the metal jig.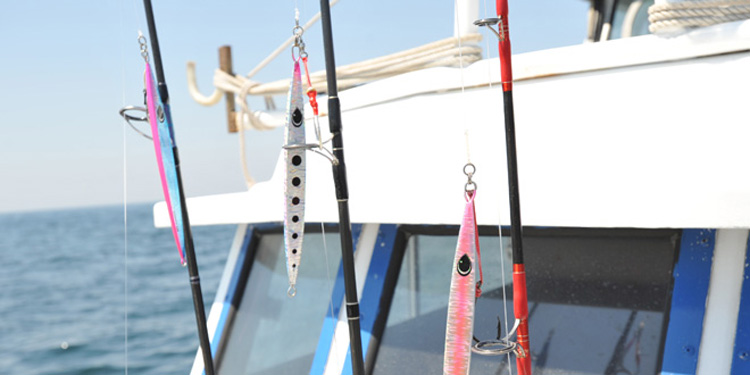 Gummy(ガミー)の特長|CHARACTERISTICS
最大の特徴である片面のエッジが水流を受け、まるでイカがイワシやアジなどを追う姿勢のようにボディーがホバリング(水平姿勢に保たせる)する。
■
The most characteristic side edge gets current and the body hovers horizontally like that Squid go after Sardine, Horse macherel and others.

●アイの形状について|Shape of eye
特徴的なラウンドアイ。
ジャークやリトリーブ時にはアイの先端のセンター部である入力支点にスプリットリングがあるが動きに「間」を入れることによりラウンド形状のアイの中でスプリットリングが横へとスライド(支点がズレる)。その時リーダーに潮によるテンションが掛かり、ジグは側面のエッジで潮を噛んでホバリングしその後、リーダーテンションとヘッドウエイトのバランスにより、まるでベイトが逃げるようにヘッド側から滑るようにフォールし「居食い」をさせることが可能になった。
■
Gummy has characteristic round eye.
When jerking or retrieving the sprit ring slides in the round eye by putting "a pause" to the power fulcrum which is in the center tip of the eye. At the same time the reeder has a tension when the jig gets stuck and hovers by the sea water.
After that, by the balance between the reeder tension and the head weight the jig slides and falls from the head like that the bait runs away, which makes it possible to "stay and eat around".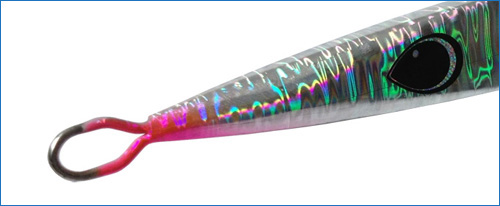 ●Gummyのアクションイメージ|ACTION IMAGE
基本的な操作のイメージは、潮に絡ませてジャーク幅を取らない動きでアクションさせる。リールのハンドルでラインを巻き入れながら、ロッドでジグを引き寄せるというイメージ。
ロッドを曲げるような角度でジグに負荷を付け、さらにリーリングでジグに特徴となる水波動を出させるのだ。
さらに、タフコンディション下で「居食い」を誘発させるアクションとしてはジグをボトム周辺で漂わせる(ドリフト)ようにアクションさせフォールでより魚とジグとの距離感を詰めて誘う「ドリフト&フォール」が効果的。
■
The image of the basic handling is a short jerk action in getting stuck by the sea water. That is pulling the jig by the rod with retrieving the line by the handle of the reel. You can take a load on the jig in an angle of bending rod and cause the characteristic waves in the water.
Moreover the most an effective action is "Drift & Fall" which is that under a tough condition let the jig to drift at the bottom to make a fish to "stay and eat around" and fall tempt fish to the jig more closely.
カラーバリエーション


No.1 シルバー

No.2 ピンク


No.3 ブルーピンク


No.4 七里イワシ


No.5 七里イワシ


No.6 アカキン


No.7 グリーン/ハラグロウ


No.8 シルバーピンクライン/ハラグロウ


No.9 アジ


No.11 オールグローSライン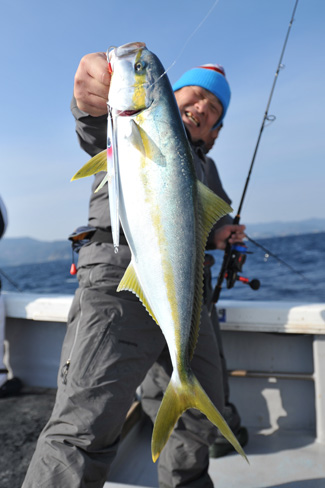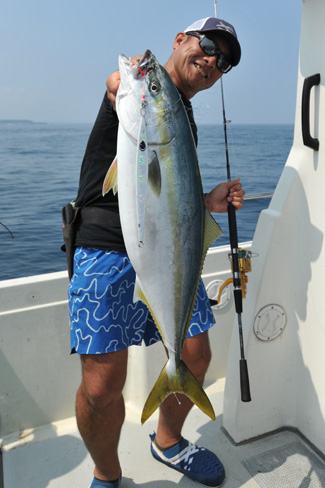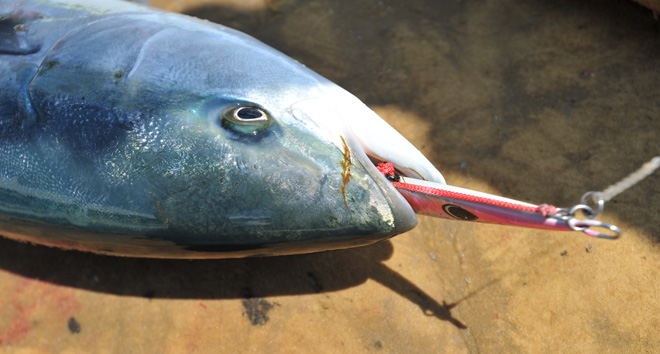 Gummy(ガミー)

サイズ:110g 130g 160g 180g 200g 220g
希望小売価格 110g:1,700円+税 130g:1,780円+税 160g:2,050円+税 180g:2,200円+税 200g:2,420円+税 220g:2,600円+税
本製品はフック未装備です。
画像と実際の本製品では若干色合いに違いが出る場合がございます。