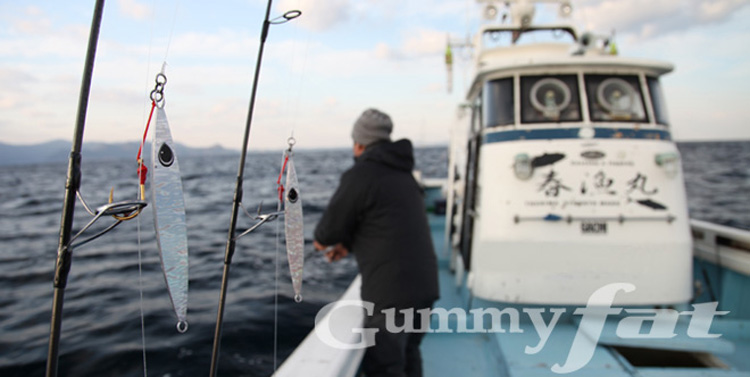 潮の効いた状況下において有効的なガミーに対し、潮の動き始めや潮の弱くなる状況下でファットタイプは生きてくる。
特に、潮流の弱い状況下でも、キモとなる"食わせの間"に不可欠なホバーリングアクションを容易にするためガミーよりもエッジ面積を広くし、干満の始まりや終わりに絶大な効果を生み出す。
アクションの幅広さはスロージギングにも対応する。
■
When the tide is working, Gummy jig is effective. On the other hand, when the tide doesn't work well, it's the time you use Gummy fat.
Especially, under a weak current situation, we made the edge area wider than Gummy to facilitate hovering action that create an indispensable time.
That brings a tremendous effect at the beginning and end of tide.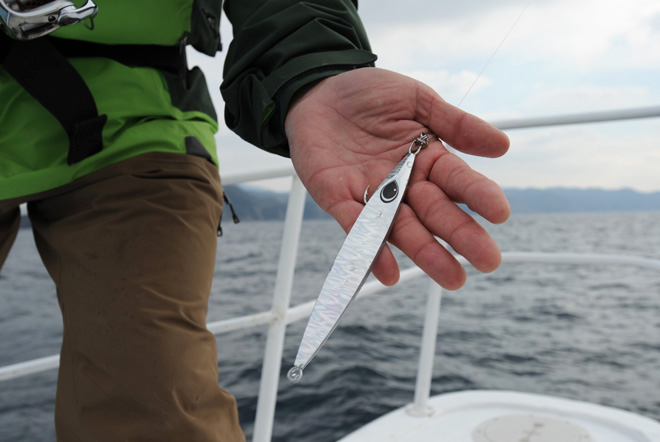 Gummy fat|ガミー ファットの特徴
ガミーゆずりのヘッドから滑り落ちるフォール姿勢は、まるでベイトが逃げるようなアクションを生み出し、根回りや漁礁に多く見られるアジやネンブツダイのようなストラクチャーに着くベイトを演出。
●アイの形状について
特徴的なラウンドアイ。
ジャークやリトリーブ時にはアイの先端のセンター部である入力支点にスプリットリングがあるが動きに「間」を入れることによりラウンド形状のアイの中でスプリットリングが横へとスライド(支点がズレる)。
その時リーダーに潮によるテンションが掛かり、ジグは側面のエッジで潮を噛んでホバリングしその後、リーダーテンションとヘッドウエイトのバランスにより、まるでベイトが逃げるようにヘッド側から滑るようにフォールし「居食い」をさせることが可能になった。
■
Gummy fat has characteristic round eye.
When jerking or retrieving the sprit ring slides in the round eye by putting "a pause" to the power fulcrum which is in the center tip of the eye. At the same time the reeder has a tension when the jig gets stuck and hovers by the sea water.
After that, by the balance between the reeder tension and the head weight the jig slides and falls from the head like that the bait runs away, which makes it possible to "stay and eat around".

カラーバリエーション


No.1 シルバー


No.2 ピンク


No.3 ブルーピンク


No.4 七里イワシ


No.5 イワシ


No.6 アカキン


No.7 グリーン/ハラグロウ


No.8 シルバーピンクライン/ハラグロウ


No.9 アジ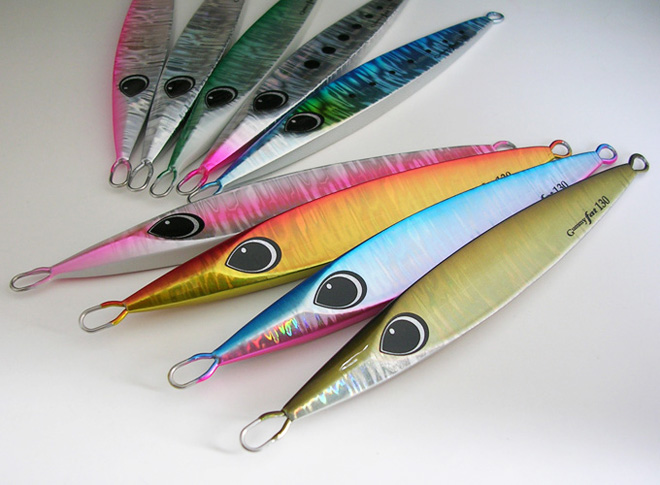 Gummy fat(ガミーファット)

サイズ:130g 160g 180g
希望小売価格 130g:1,830円+税 160g:2,100円+税 180g:2,250円+税
本製品はフック未装備です。
画像と実際の本製品では若干色合いに違いが出る場合がございます。